I hope everyone had a delicious and relaxing Thanksgiving w/ family and friends. I know I did thanks to my friends Michelle and Byron! Michelle cooked up a feast of turkey, roasted root veggies, green bean casserole, stuffing and gravy. For dessert we had pumpkin pie and my gelato. Michelle made the turkey using a new technique of cooking the turkey the day before, carving it, then placing it back in the roasting pan w/ the cooking juices to be reheated the next day. Not only was it tender and juicy, it saves a ton of time on the day of Thanksgiving!
I snapped a few pics of the feast in between bites…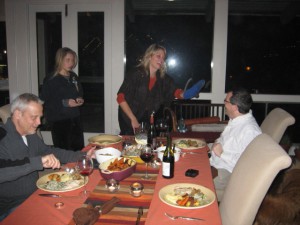 Byron, Mackenzie, Michelle  and Dave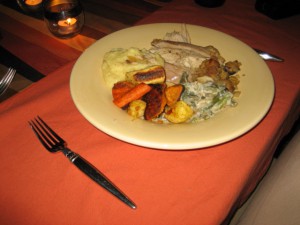 My plate of goodies
Kaiko waiting for stuff to fall off the table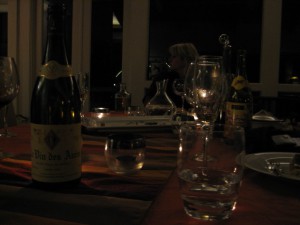 After the goodness
Thanks again for your hospitality Byron and Michelle!!