Author Archive for brunosdream
Well, summer's almost over…what a bummer! Besides spring, it's my favorite season. Gardening has been good this year. I already have a few ideas for next year that I'm looking forward to putting into action.
Here are a few photos that I shot this morning. As you can see, there are many tomatoes and peppers yet to be picked, and a few baby butternuts that hopefully will plump up for good eatin'! If you enlarge the photo of the zinnias and look closely at the top right flowers you might be able to spot a Monarch butterfly that stopped for some nectar to help it w/ the long flight to Mexico.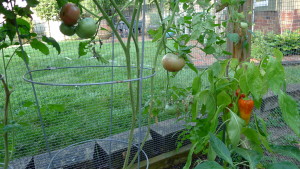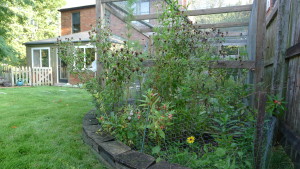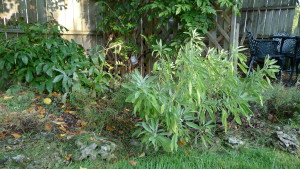 Enjoy the final weeks of summer!
Bruno
We're finally getting a normal rain pattern in St. Louis. A good soaking rain about once a week is just what the garden needs besides my daily watering. Getting some nice ripe veggies on a regular basis… this is why I love to garden!
The following garden pics were snapped on July 26th and on August 5th, voila, the first ripe bounty for my eating pleasure!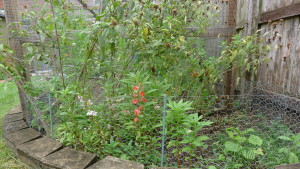 I'm one happy gardener :-)
Bruno
If you're looking for something different to do w/ all those peppers growing in your garden, here's a quick and easy recipe. I love the sweet and spicy flavors of this jam! Want it more sweet than spicy… just use less spicy peppers, add some bell peppers or just omit the hot pepper seeds/ribs. This jam will wake up your palate in the morning!
Pepper Jam (recipe adapted from popsugar.com)
Ingredients:
Mix of jalapeno and fresno peppers (stems, seeds and ribs removed, leaving seeds/stems of only 3 or 4 jalapenos) – enough for 2 cups when minced
3/4 cup of apple cider vinegar
1 1/4 cups of sugar
1 tablespoon fruit pectin
Procedure:
1) Finely mince peppers in a food processor
2) Place a small plate in the freezer
3) In a large heavy-bottomed pot combine minced peppers, cider vinegar and sugar. Bring to a rolling boil over medium high heat and boil for 10 minutes, stirring often.
4) Add fruit pectin, stirring constantly for 1 minute. Remove pot from heat.
5) Remove plate from freezer and dab a small amount of jam on it. Return plate to freezer for 1 minute. If the jam has jelled and does not slide down the plate when tilted it's done. If the jam slides down, continue to cook mixture for another minute and try the freezer test again. If the jam is the desired consistency it's ready.
6) Let cool a bit, then ladle into a jar.
Yield: 10 ounces
Pick a peck of peppers!
Bruno
A pair of goldfinches stop by in my yard from time to time to snack on the zinnias. They're beautiful and fun to watch as the pull the petals off the flowers to get to the seeds. I was drinking my morning cups of coffee the other day and spotted them in action through the kitchen window. Can you spot them? The female is a bit more difficult to see in the photos but she's there! (click the pics to enlarge for easier spotting)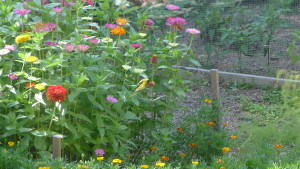 Happy Birding!
Bruno
So far this season the garden is doing well despite being drowned by all the rain we've been getting. A total of 11.25 inches of rain has fallen so far this month alone! Some baby tomatoes and jalapenos are starting to form already. My basil seems to like all the moisture because it's growing like crazy. I harvested enough the other day to make a big jar of pesto. I also harvested some oregano. It's being dried out and will be used in tomato sauce and crumbled on top of pizzas. The zinnias are looking beautiful, but the hollyhocks were so badly damaged from rust disease that I removed them from the butterfly garden yesterday. The following garden photos were taken on June 24th. The pesto and oregano pic was snapped this morning.
 Zinnias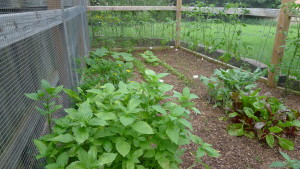 Basil in the foreground
 Lettuces, greens, etc.
 Baby tomato
 Baby jalapenos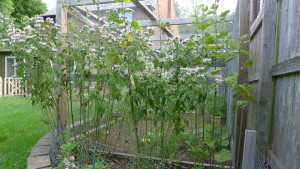 Butterfly garden
 Wildflowers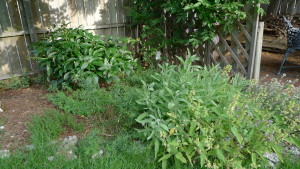 Herbs
  Veggie enclosure
 Oregano and pesto
Until next time…
Bruno
This year's veggie garden was seeded on March 29th and planted on May 6th. The weather conditions were optimal to get everything in the ground early this year. All plants are thriving w/ the exception of the hollyhocks which have rust disease. I'm trying to nurse them back to health. Fingers crossed they survive. Here's a list of what went in the garden this year:
3 Waltham butternut squash
2 Aconcagua red bell pepper
1 Jalafuego jalapeno
1 Sierra Fuego jalapeno
4 Early jalapeno
2 Red Winter kale
2 Lacinato kale
2 Ruby Red Swiss chard
2 Mixed chard (Pot of Gold/Ruby Red)
4 Black Krim tomato
2 Brandywine tomato
2 Crimson Carmello tomato
1 Pineapple tomato
1 Gold Medal tomato
1 Speckled Roman tomato
1 Pompeii tomato
Baby Mesclun lettuce
Spicy Micro Greens
Wild and Regular arugula
Siam Queen and Italian Genovese basil (direct seeded)
Zinnias (direct seeded)
The following photos were taken on 5/25/15:
Happy Gardening!!
Same recipe and procedure as in my last post. Only this time I made 2 small loaves, 35 minute total bake time and rotated the loaves front to back after 20 minutes. Same great results… this recipe is a keeper!
Happy Baking!
This is a very delicious bread… crisp crust, airy crumb and nice sour rye flavor! The only deviations I made from the recipe was making one big batard instead of 2 small ones. Also I did not have the steamer used, so after sliding the dough into the oven onto my pizza stone I poured a cup of water into a metal container placed on the bottom of the oven. Next time I'll try making 2 small loaves to see if this is the optimal method. The recipe came from Bread Cetera. Click here for the recipe.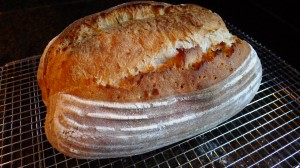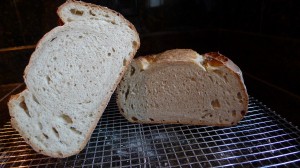 Coming soon to a garden near me… Spring and veggie season!
Garlic Rosemary Knots   (recipe adapted from Bon Appetit)
Ingredients:
3 tablespoons butter (melted)
2/3 pizza dough recipe (click here for recipe)
3 tablespoons garlic (minced)
1 1/2 tablespoons fresh rosemary (finely chopped)
Procedure:
1) Make pizza dough (add butter, garlic and rosemary into bowl prior to mixing in flour)
2) Roll out dough on a lightly floured surface into a 12 inch square then cut lengthwise into 8 ribbons. Roll each ribbon to round out the edges then tie each one into a knot. Place them on a parchment paper lined sheet pan, loosely cover w/ plastic wrap and let rise for about an hour until slightly puffed. 
3) Preheat oven to 375 degrees F. Bake knots until cooked through and golden (approx. 20 – 25 minutes).
4) Remove from oven and let cool or serve warm – your preference.
Yield: 8 knots
Savor the goodness!