Author Archive for brunosdream
We've had some major thunderstorms lately in St. Louis which have dumped tons of rain. The excessive water caused damage to the foliage on my tomato plants. If you enlarge the photograph you'll see I had to trim off quite a lot of leaves. I've harvested the chard twice, made a big jar of pesto w/ the Genovese basil and have used some of the ripe jalapenos already too! This morning I picked the ripe tomatoes and more jalapenos to add to a shrimp and scallop pasta w/ pesto that is planned for tonight's dinner. The oregano has been very productive this year, so I've dried some for future recipes. I've also snipped some fresh tarragon sprigs and added them to my red wine vinegar for a delicious herbal touch in vinaigrettes (something I learned from my mom).
Photos taken on July 24th: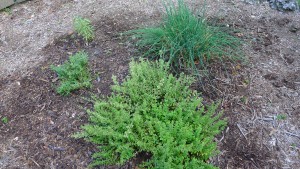 Until next time…
Bruno
It's been one month since I transplanted my baby vegetable plants into their new home. Everything is doing well so far. I did have a casualty in my herb patch though. My new sage plant shriveled up and died during the heat wave last week (it hit 101 degrees F in St. Louis!!). Oh well… looks like I'll be using some dried sage in my cooking this weekend. On the menu are country style ribs, so I'll add the sage to my dry rub for a little extra flavor. Below are some photos I snapped yesterday morning.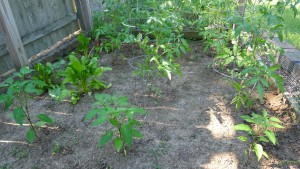 Daydreaming of good things to come…
Bruno
Well, 2021 is off to a good start. Not only is Covid starting to dwindle in the U.S., mother nature has been kind this spring in St. Louis. No major drowning rainstorms, mostly some days w/ nice steady rain followed by sunny days. The average temperature in May was around 70 degrees F. Perfect weather to transplant my veggie garden. This year I grew 8 Cherokee Purple tomato plants, 4 Swiss Chard (Five Color Silverbeet) and 3 jalapeno pepper plants. All were started on April 4th and transplanted on May 24th. I also started basil (Thai and Genovese) in pots outside on May 1st. My sage plant was getting old and dying out, so I trimmed out all the dead sections and added a new sage plant in the same spot. The new plant is a different variety w/ large oval leaves and purplish stems. Everything is doing well in their new homes. I rotated the garden to the other side of the enclosure and gave the plants more space to spread their leaves and grow! Here are some photos I snapped on May 30th: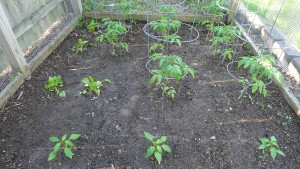 Chard, tomatoes and peppers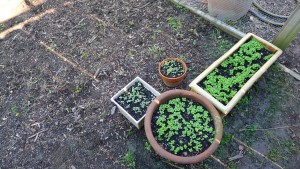 Thai basil in the small pots, Genovese in the larger ones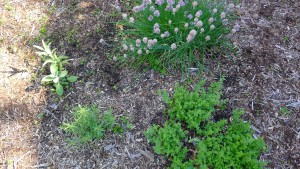 Sage, tarragon, chives and oregano
Be well and stay healthy…
Bruno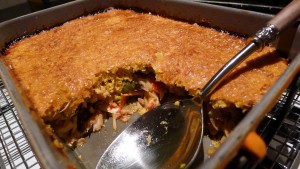 I've been cooking my way through some recipes from a cookbook on Mexican, South American and Caribbean food. The Cuban chicken casserole recipe sounded delicious. With the pureed corn topping and the combination of other ingredients that I really enjoy, I had to find out how the finished product would taste. Well, it tasted fantastic! The corn crust and raisins added a touch of sweetness to balance w/ all the savory ingredients. I will definitely be making this again! It will be a great dish to serve when I have a few friends over for dinner. 
The green bean recipe is something I put together to have a vegetable side that would pair up well w/ the casserole. 
Goes well w/ both a Vouvray from the Loire region of France or a Cotes du Rhone white that's Viognier dominant. 
Cuban Chicken Casserole (adapted from The Complete Mexican, South American & Caribbean Cookbook by Milton, Fleetwood and Filippelli)
Ingredients:
1 1/2 pounds chicken breasts (boneless, skinless)
1 pound chicken thighs (boneless, skinless)
1 celery stalk (cut in large pieces)
2 carrots (cut in large pieces)
2 bay leaves
5 cloves 
10 black peppercorns
1 large yellow onion (medium dice)
2 tomatoes (medium dice)
2 hard-boiled eggs (chopped)
1/2 cup pitted green olives (chopped)
1/2 cup raisins
1 tablespoon bottled capers (drained)
1 tablespoon olive oil
1/2 teaspoon red pepper flakes
salt 
For the topping:
3 cups corn kernels (I used canned)
1 teaspoon sugar 
3 eggs (beaten)
3 tablespoons unsalted butter 
salt and black pepper
Procedure:
1) Cut chicken breasts in half and trim fat off thighs; Place bay leaves, cloves, peppercorns in cheesecloth pouch and tie closed.
2) Put chicken, spice pouch, celery and carrots in a large pot, cover w/ water and simmer for 45 minutes. Remove chicken from liquid and let cool before shredding. (You can save the poaching liquid, celery and carrots for soup).
3) Make the topping: Puree corn kernels in food processor. Melt butter in a pan over medium heat; stir in pureed corn and sugar, add salt to taste, then cook over medium heat, stirring occasionally, until mixture thickens and comes away from sides of the pan. Remove from heat and let cool for 10 minutes then slowly stir in the eggs a little at a time. 
4) Preheat oven to 350 degrees F. 
5) Heat the oil in a large pan, add the onion and cook over medium heat until soft and translucent. Remove from heat. Fold in the hard-boiled eggs, tomatoes, olives, capers, raisins, shredded chicken and red pepper flakes. Salt to taste. Make sure ingredients are evenly distributed throughout the mixture. 
6) Spoon the mixture into a deep 8 x 10 baking dish and press it down to level out. Spread the corn topping over the top of the mixture w/ a spatula. Bake for 45 minutes until golden brown, rotating front to back halfway through the baking (it took about an hour in my oven for the topping to get nicely browned). Let cool for 10 – 15 minutes before serving. 
Yield: 6 servings
Garlicy Green Beans w/ Chives and Red Bell Pepper
Ingredients:
3/4 pounds green beans (ends trimmed if necessary)
1 red bell pepper (seeded and thinly sliced lengthwise)
3 large garlic cloves (pressed)
1/2 teaspoon dried oregano
1 tablespoon fresh chives (cut into 1 inch pieces)
2 tablespoons unsalted butter
1/2 tablespoon olive oil
salt and pepper
Procedure:
1) Bring a pot of water to a boil and add green beans and cook for 5 minutes until beans are tender. Strain beans in a colander.
2) Over medium heat, melt butter in a large pan then add olive oil. 
3) Add the garlic and saute' for 1 minute, then add the bell pepper, chives and oregano and saute' until bell pepper softens (approx. 5 minutes). Add the green beans, continue to saute' for another minute to warm the beans. Salt and pepper to taste. 
Yield: 3 servings
Please get vaccinated so we can get past this pandemic. To your health…
Bruno
Believe it or not, I've never made turkey until a couple of weeks ago! Since I missed my turkey fixes this past holiday season due to the pandemic I've been craving it lately. I decided to start small and just make a turkey breast instead of  the whole bird. It's been super cold here in St. Louis so it's the perfect time to fire up the oven. A good pair of kitchen shears is essential for this recipe. You'll see what I mean when you spatchcock the breast.
Spatchcocked Turkey Breast Roasted w/ Veggies
Ingredients:
7 pound turkey breast (fresh, skin on and bone in)
1 pound carrots (cut into large pieces)
2 yellow onions (cut into large pieces)
1 red bell pepper (cut into large pieces)
2 jalapenos (halved and thinly sliced)
1 head garlic (cloves peeled and crushed)
2 pound butternut squash (cut into large pieces)
1 pound crimini mushrooms (halved)
1 1/2 tablespoons oregano (for veggies)
1 1/2 tablespoons olive oil (for veggies)
1 1/2 tablespoons salt (for veggies)
**plus more salt for rubbing on turkey 
Mixture for brushing on turkey:
4 cloves garlic (pressed)
1 1/2 tablespoons olive oil
1 1/2 tablespoons chives (chopped)
1 1/2 tablespoons butter (melted)
Procedure:
1) Spatchcock turkey breast, pat dry and rub salt on and under skin; place in baking dish then put in fridge uncovered for 4 hours to air dry.
2) 1 hour prior to roasting, remove turkey from fridge to take chill off.
3) Preheat oven to 450 degrees F.
4) Prep veggies, place in roasting pan then toss w/ olive oil, oregano and salt.
5) Place turkey on veggies and brush oil mixture under skin, then skewer skin (to prevent from retracting) and brush remaining oil mixture on skin.
6) Put turkey and veggies into oven (on middle rack); after 1/2 hour reduce temperature to 350 degrees F, loosely tent turkey w/ foil and continue roasting until internal temperature of turkey is 155 degrees F and juices run clear (check temperature occasionally during roasting; remove foil from turkey 20 minutes before it's done; turn oven to broil for last 1 to 1 1/2 minutes to crisp turkey skin).
7) Remove turkey and veggies from oven; place turkey on cutting board and let rest uncovered for 15 – 20 minutes (internal temperature will rise to 165 degree F).
8) With oven still on broil, stir veggies and return to oven for 5 minutes or until veggies are browned in spots, then remove from oven.
** Total roasting time for turkey: 1 hour and 55 minutes (approx. 16 1/2 minutes per pound).
Serve w/ brown rice or your starch of choice. 
Stay warm and eat well!!
Bruno
Isolation has been getting me down lately. One of the few things that has helped ease the feelings of loneliness is cooking therapeutic meals to elevate my mood. The most recent meal I cooked was exceptionally good. It momentarily made me forget about all the crap that's going on in the world lately.
Spicy Beef w/ Noodles and Veggies
Ingredients:
1 1/2 pounds London Broil – thinly sliced
1 pound tomatoes – large dice
10 ounces Crimini mushrooms – sliced
1/2 bunch Lacinato kale (approx. 7- 8 leaves) – cut into 1 inch pieces
1 red bell pepper – cut into 1 inch pieces
1 pound pappardelle noodles
1 medium white onion (about 8 ounces) – cut into 1 inch pieces
1/3 cup Thai basil leaves
1/2 cup Parmesan cheese – grated
2 cloves garlic – sliced
Salt
Spice mix:
5 Japones  peppers
2 Pasilla Negro peppers
1 tbsp. dried chervil
1 tbsp. Hungarian paprika
Procedure:
1) Grind peppers, then mix in chervil and paprika.
2) In batches, sauté beef and sprinkle w/ spice mix to desired spice level; set aside.
3) Sauté mushrooms w/ garlic until they release moisture, then add onions and bell pepper and sauté until softened.
4) Add kale to veggies and sauté until tender.
5) Add tomatoes and beef to veggie mix, season w/ salt and cook until warm.
6) Cook pasta until al dente, strain pasta and return to pot.
7) Fold veggie/beef mix into pasta, then fold in basil leaves and parmesan.
8) Eat!
Yield: 4 to 6 servings, depending on hunger level.
Here's to the joys of cooking (and eating)!!
Cheers…
Bruno
I made this gelato about a month ago when peaches were at their peak. The local peaches didn't look very good (possibly due to the excessive rains this summer), so I chose some perfectly ripe peaches from California. I pitted and froze the peaches until I had time to execute the recipe a few days later. My taste testers at work gave the gelato a thumbs up. Give it a try… you won't be disappointed!
Peach Gelato
Ingredients:
4 peaches
6 egg yolks
1 quart half & half
1 cup sugar
1/4 teaspoon salt
Procedure:
1) Puree peaches in a food processor.
2) In a metal bowl, whisk egg yolks and sugar until mixture becomes smooth and pale yellow.
3) Place half & half in a heavy pot and heat until scalded.  
4) Very slowly whisk warm half & half into egg/sugar mixture so as not to curdle the mixture.
5) Place bowl w/ mixture over a pot of simmering water, stirring continuously w/ a heat resistant spatula until mixture coats the back of a metal spoon (do not let mixture exceed 170 degrees F to prevent curdling), then quickly place bowl in an ice bath to stop the cooking process.
6) Once cool, stir in peach puree and refrigerate mixture for at least 4 hours or overnight.
7) Churn mixture in ice cream maker according to manufacturer's instructions.
8) Pour gelato into a 2 quart plastic container then place a piece of parchment paper cut to size on the surface of gelato (this will reduce air exposure and prevent ice crystals from forming on the surface of the gelato), seal container and freeze until firm .
Yield: Approx. 1 1/2 quarts 
Savor summer's sweetness…
Bruno

Here's a picture snapped over the weekend. The photo is deceiving – the current tomatoes are small, the largest ones are the size of a big apricot. I did however harvest 7 packed cups of basil leaves. Enough for a large jar of pesto! This year has not been a good one for tomatoes. The big rains we've had have taken a toll on my tomato plants. Some have died and the remainder are producing less and smaller fruit. Surprisingly, the basil plants have thrived. Probably because they are planted in well drained pots. Oh well, I'll take what I can get…
Hope you're enjoying the remains of summer!
Bruno
St. Louis has been pummeled by rain during the past week. We've had several torrential downpours and many of my tomatoes were starting to split open from the excessive water. I decided to harvest the nearly ripe ones yesterday before they were ruined. Some were already starting to rot at the spots where they were touching each other. After cutting away the bad spots from a big tomato, I made a caprese salad for lunch today with mozzarella di bufala that I picked up at the wine shop where I work. Drizzled w/ an aged balsamic vinegar from Italy and served w/ tuna packed in olive oil… life was good as I momentarily forgot about the pandemic that is ravaging Missouri and St. Louis as well as the rest of the country! Tonight's dinner will be a curried pork stir fry which will include some garden fresh tomatoes and Thai basil. Looking forward to more goodness!
Here are a couple of photos taken yesterday (August 1st):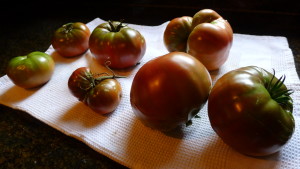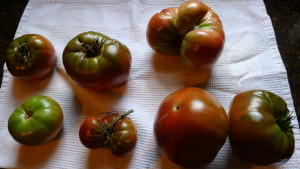 Be well…
Bruno