Wintertime is a great time for baking because it warms up the house and makes it smell oh so good too! I reawakened my sourdough starter not long ago. This got me itching to try a new bread recipe, so I pulled out my favorite bread cookbook, Peter Reinhart's "The Bread Baker's Apprentice – Mastering the Art of Extraordinary Bread" to try his recipe for basic sourdough. This bread takes 2 to 3 days to make (3 days if you don't already have starter in your fridge), but what great results! I will definitely make this bread again despite how long it takes to get the finished product. The sourdough taste was perfect, the crust was crunchy (just the way I like it) and the crumb was light and airy. It looked so appetizing while I was taking the photos that I rewarded myself w/ a slice when I was done and I'm longing for more already! Take the time to make this recipe, I promise you won't regret it!!
 I followed the recipe exactly, however I didn't refrigerate my starter overnight after refreshing it, which is supposed to deepen the flavor (by skipping this I cut 1/2 day from the recipe). I also made one large loaf instead of 2 smaller ones. The recipe is a long one, and since I'm a slow typist I decided to just add a link to the recipe here.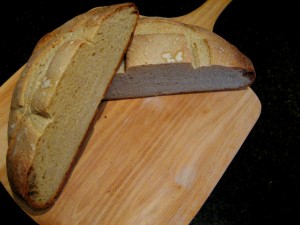 Try it, you'll like it!