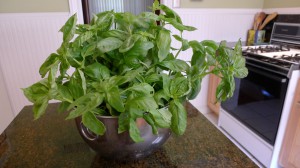 Pesto in a jiffy! My basil rebounded well after the hellish summer temperatures we had here in St. Louis. So happy to have a nice batch of pesto for the fall and winter months. The pistachios in this recipe add an additional layer of flavor and complexity to traditional pesto. Try it and see for yourself!
Basil Pesto (recipe adapted from Simply Recipes)
Ingredients:
6 cups fresh basil (packed)
1 1/2 cups Parmigiano-Reggiano (freshly grated)
1 1/2 cups extra virgin olive oil
1/2 cup pine nuts
1/2 cup pistachios
9 medium sized garlic cloves
salt + pepper to taste
Procedure:
1) Combine the basil in with the pine nuts and pistachios; pulse a few times in a food processor.   
2) Add the garlic, pulse a few times more. 
3) Slowly add the olive oil in a constant stream while the food processor is on.  Stop to scrape down the sides of the food processor with a rubber spatula. 
4) Add the grated Parmigiano-Reggiano and pulse again until blended. 
5) Add salt and freshly ground black pepper to taste.
Yield: Approximately two 16 oz. jars
Go Green!