Archive for the 'Gardening' Category
We've had some major thunderstorms lately in St. Louis which have dumped tons of rain. The excessive water caused damage to the foliage on my tomato plants. If you enlarge the photograph you'll see I had to trim off quite a lot of leaves. I've harvested the chard twice, made a big jar of pesto w/ the Genovese basil and have used some of the ripe jalapenos already too! This morning I picked the ripe tomatoes and more jalapenos to add to a shrimp and scallop pasta w/ pesto that is planned for tonight's dinner. The oregano has been very productive this year, so I've dried some for future recipes. I've also snipped some fresh tarragon sprigs and added them to my red wine vinegar for a delicious herbal touch in vinaigrettes (something I learned from my mom).
Photos taken on July 24th: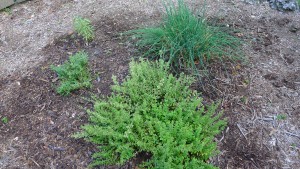 Until next time…
Bruno
It's been one month since I transplanted my baby vegetable plants into their new home. Everything is doing well so far. I did have a casualty in my herb patch though. My new sage plant shriveled up and died during the heat wave last week (it hit 101 degrees F in St. Louis!!). Oh well… looks like I'll be using some dried sage in my cooking this weekend. On the menu are country style ribs, so I'll add the sage to my dry rub for a little extra flavor. Below are some photos I snapped yesterday morning.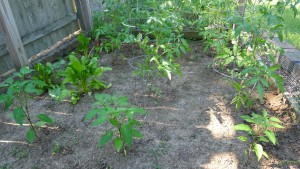 Daydreaming of good things to come…
Bruno
Well, 2021 is off to a good start. Not only is Covid starting to dwindle in the U.S., mother nature has been kind this spring in St. Louis. No major drowning rainstorms, mostly some days w/ nice steady rain followed by sunny days. The average temperature in May was around 70 degrees F. Perfect weather to transplant my veggie garden. This year I grew 8 Cherokee Purple tomato plants, 4 Swiss Chard (Five Color Silverbeet) and 3 jalapeno pepper plants. All were started on April 4th and transplanted on May 24th. I also started basil (Thai and Genovese) in pots outside on May 1st. My sage plant was getting old and dying out, so I trimmed out all the dead sections and added a new sage plant in the same spot. The new plant is a different variety w/ large oval leaves and purplish stems. Everything is doing well in their new homes. I rotated the garden to the other side of the enclosure and gave the plants more space to spread their leaves and grow! Here are some photos I snapped on May 30th: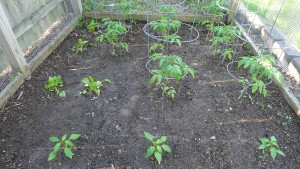 Chard, tomatoes and peppers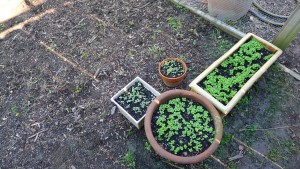 Thai basil in the small pots, Genovese in the larger ones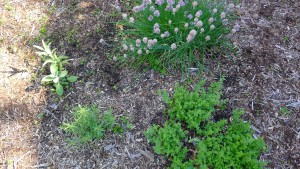 Sage, tarragon, chives and oregano
Be well and stay healthy…
Bruno
Here's a picture snapped over the weekend. The photo is deceiving – the current tomatoes are small, the largest ones are the size of a big apricot. I did however harvest 7 packed cups of basil leaves. Enough for a large jar of pesto! This year has not been a good one for tomatoes. The big rains we've had have taken a toll on my tomato plants. Some have died and the remainder are producing less and smaller fruit. Surprisingly, the basil plants have thrived. Probably because they are planted in well drained pots. Oh well, I'll take what I can get…
Hope you're enjoying the remains of summer!
Bruno
St. Louis has been pummeled by rain during the past week. We've had several torrential downpours and many of my tomatoes were starting to split open from the excessive water. I decided to harvest the nearly ripe ones yesterday before they were ruined. Some were already starting to rot at the spots where they were touching each other. After cutting away the bad spots from a big tomato, I made a caprese salad for lunch today with mozzarella di bufala that I picked up at the wine shop where I work. Drizzled w/ an aged balsamic vinegar from Italy and served w/ tuna packed in olive oil… life was good as I momentarily forgot about the pandemic that is ravaging Missouri and St. Louis as well as the rest of the country! Tonight's dinner will be a curried pork stir fry which will include some garden fresh tomatoes and Thai basil. Looking forward to more goodness!
Here are a couple of photos taken yesterday (August 1st):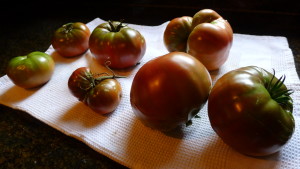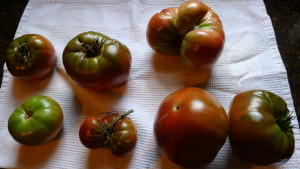 Be well…
Bruno
Summer is definitely upon us in St. Louis! Temperatures have been in the 90's for the past couple of weeks but there has been good soaking rainfall weekly. The plants are looking healthy and have started producing. If you enlarge the photos you'll see some Cherokee Purple tomatoes and Jalapeno peppers coming in. I've already harvested some chard and basil to use in various recipes. The wildflowers are doing well too. The only thing that looks kind of scraggily is my patch of herbs. The sage and chives came back fairly well, however the tarragon and oregano didn't. I'm letting them go to seed in hopes that I'll have stronger and fuller plants next year.
Here are a few photos taken on July 9th: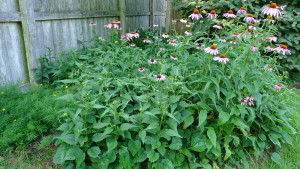 Happy Gardening!
Bruno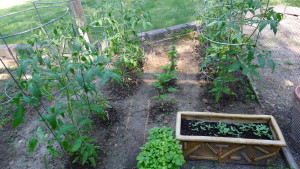 photos taken June 14th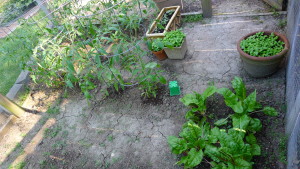 What a pleasure it is to be outside again playing in the dirt! The last several months have been crazy to say the least as a result of  Covid 19. I'm hoping this will be a good gardening year to temporarily take my mind off of  virus related news.
Again, I've shrunk the amount of veggies going into the enclosure this year. Less plants and only what has produced well in past seasons. St. Louis had a lot of rain in May but now there's been a good stretch of dry weather allowing the plants to get well established.
In the garden this year are: 4 Cherokee Purple and 4 Cuore Di Bue tomatoes, 4 Swiss chard, 2 Padron and 2 Jalapeno peppers. In the pots are Genovese and Thai basil.
Green thumbs up!!
Bruno