The second installment of my European adventure takes place in the town of Eauze, France, where we were fortunate enough to visit the Armagnac producer, Marquis de Montesquiou. They normally don't give tours but my brother told them I was coming all the way from St. Louis and was a fan of their Armagnac, so they made an exception. Our guide was the maître de chais (cellar master), Eric Durand. He was kind enough to take 1 1/2 hours out of his busy day to show us around and explain the Armagnac production process.
Armagnac is an eau de vie, like Cognac, but different in that it is distilled only once using a continuous distillation process. This process captures more of the esters from the fermented grapes and results in a more flavorful end product. Eric also noted that the oak barrels in which Armagnac is aged has a looser grain than the barrels used for aging Cognac, allowing the Armagnac to absorb more flavors from the barrels than Cognac.
Our tour culminated w/ a tasting of the house reserve Armagnac that dates back to 1900. If I remember correctly, Eric explained that with every vintage there is some excess Armagnac that won't fit into the barrels used for that year's production. This excess was placed in select barrels and is a blend of all vintages dating back to when Marquis de Montesquiou was founded. How fortunate we were to taste something that rare! My friend said he had never seen as big a smile on my face as when that golden nectar touched my taste buds! My brother commented to Eric that I'm now spoiled for life because no other Armagnac will taste as good as this house reserve. So true… so true!!
Here are a few photos from our visit:
 "La Cathedrale" (the cathedral) where the barrels are housed
 Inside "La Cathedrale"
 The large blending barrels (w/ a normal sized barrel in the foreground for perspective)
 The large blending barrels and the lab
 A label on one of the blending barrels
 A label on one of the normal sized barrels (noting the vintage, grape type, farm of origin, etc…)
 Markings on one of the normal sized barrels
 Maitre de Chais, Eric Durand, explaining the distillation process
 Inside the lab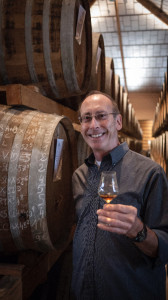 The moment of glory!
Thank you Eric for such a memorable experience!
A votre sante'…
Bruno