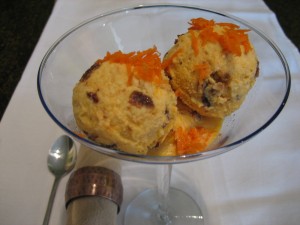 For LiveSTRONG Day – A tribute to all those living w/ cancer. Barbara of Winos and Foodies is once again hosting A Taste of Yellow to support LiveSTRONG Day and to raise awareness of cancer issues worldwide. She's asking food bloggers to cook up something yellow as a way of showing support for this cause and for sharing their cancer related stories if they have one.
My contribution to A Taste of  Yellow 2009 is this carrot gelato which is orangish yellow but it's the thought and effort that counts – For LiveSTRONG Day – A tribute to all those living w/ cancer.
Carrot Gelato w/ Roasted Hazelnuts & Rum Soaked Raisins
Ingredients:
1 cup grated carrots (packed tightly)
3/4 cup roasted hazelnuts (skins removed)
1/2 cup raisins (soaked in dark rum)
1 cup sugar
1 quart half & half
6 large egg yolks
Procedure:
1) Puree carrots in food processor w/ a small amount of half & half
2) Place rum soaked raisins in a small pot and heat to burn off alcohol
3) In a metal bowl, whisk egg yolks and  sugar until mixture becomes smooth and pale yellow
4) Place half & half in a heavy pot and heat until scalded 
5) Very slowly add warm half & half to egg/sugar mixture so as not to curdle the mixture
6) Place bowl w/ mixture over a pot of simmering water, stirring continuously until mixture coats the back of a metal spoon (do not let mixture exceed 170 degrees F to prevent curdling), then quickly place bowl in an ice bath to stop the cooking process and promote rapid cooling
7) Stir carrot puree into cooling mixture
8) Once cool, refrigerate mixture for at least 4 hours or overnight
9) Churn mixture in ice cream maker according to manufacturer's instructions, adding raisins and hazelnuts when mixture begins to thicken
10) Pour gelato into a 2 quart plastic container
and quickly stir to evenly distribute the raisins and hazelnuts
11) Place a piece of parchment paper cut to size on the surface of  gelato (this will reduce air exposure and prevent ice crystals from forming on the surface of the gelato), seal container and freeze until firm
Yield: Approx. 1 1/2 quarts 
 Stay STRONG!