The 2013 growing season is winding down. It has been a pleasure walking out to my garden this year to check the progress of my babies!
I snapped a few photos on September 7th, the day that most fruit was ripening nicely. The photo of this year's bounty was taken on September 16th. In that photo there is Swiss chard to the left, ancho, New Mexican and jalapeno peppers in the center and the lone butternut squash on the right. In the background are Speckled Roman, Marvel Stripe, Black Krim and Gold Medal tomatoes.
Still to come are more tomatoes, jalapeno and habanero peppers, and hopefully another butternut squash. I planted more spicy lettuce mix a couple of days ago now that the weather here is cooling off. Looking forward to munching on more garden bounty in a couple of weeks!!
Here are the photos: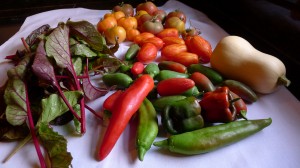 Hoping your garden is growing awesomely too!