On April 10th we dropped off some people  in St. Thomas, then flew down to St. Kitts where we spent the night. We arrived at our hotel around 3:00 that afternoon. It was a beautiful day so I went for a long walk along the beach and snapped a few photographs.
St. Kitts is a very beautiful island – the temperature was around 85 degrees F with a cool ocean breeze blowing – simply perfect! The people here are friendly and the food was pretty darn good too! We ate dinner at a little place on the beach called the Shiggidy Shack  (recommended by one of the people assisting us at the airport). At the Shiggidy Shack we were greeted by a local who was carrying his 6 month old pet Vervet monkey which he let me hold for awhile. The monkey was a cute little thing and was smaller than my cats. He was wearing a tiny diaper so he wouldn't poop all over his admirers :-)  There are around 60,000 Vervet monkeys living on the island of St. Kitts!
As I perused the Shiggidy Shack's menu, the Melted Lava Jerk Chicken caught my eye and tantalized my taste buds! The chicken packed some heat but wasn't overwhelmingly spicy.  A couple of glasses of  red wine rounded out the meal. The service was slow, but the meal was good. All in all  it was a satisfying experience.
 We left St. Kitts at 11:00 the next morning with some great memories, and for me a desire to return on vacation sometime in the future!
In flight to our destination
Basseterre, St. Kitts
From my hotel balcony
Beach scene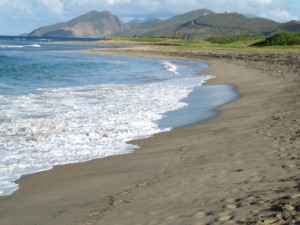 More beach
And more beach
Sunrise from my hotel balcony
Relax mon, it's de islands…