Here are a few photos from Christmas dinner at a friend's house. The lighting was low so the color and sharpness aren't very good (except the salad photo which was taken in the kitchen), but at least you can see what we feasted on. There was butternut squash soup,  Boursin potato gratin, roasted veggies, a salad w/ candied walnuts, pears and gorganzola cheese, pecan pie and chocolate truffles! I brought the boneless leg of lamb stuffed w/ crimini mushrooms, fresh chestnuts, garlic, rosemary, thyme and apricots soaked in Calvados. I also made a merlot sauce w/ porcini mushrooms. Everything was delicious and the evening was a lot of fun!!
** click on photos to enlarge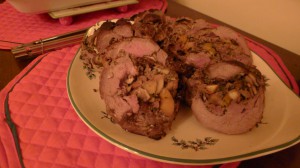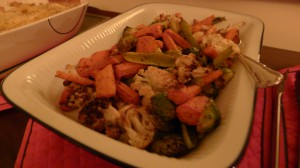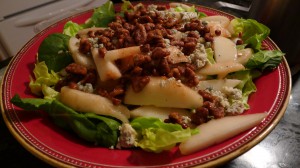 Hoping your 2013 is filled w/ peace, joy, health and happiness!
Happy cooking…