Well, it's that time of year again to dust off the gardening tools and get growing! So far this season is starting off w/ plenty of rain. Fortunately there was a 2 day window of opportunity on May 14th and 15th to get everything in the ground. All the seedlings were started on April 3rd and were ready to go into their permanent new home. The basil (Italian Large Leaf and Italian Genovese), zinnias and marigolds were direct seeded on April 16th. The butternut squash had to be reseeded yesterday because the seeds I planted on May 14th were old and didn't sprout. So far, all the seedlings have survived the transplant and are doing well in the ground. This year I put in 4 Swiss chard (two Bright Lights and two 5 Color Silverbeet), 4 kale (two Nero Toscana and two Red Winter), 2 Early Jalapeno, 5 Serrano Tampiqueno, and 12 tomato plants (one Gold Medal, one Crimson Carmello, one Speckled Roman, one Moneymaker, one San Marzano, three Cherokee Purple and four Black Krim). The Serrano peppers, Moneymaker and San Marzano tomatoes are new to the mix to see how well they'll grow in my yard.
The following photos were taken on May 23rd: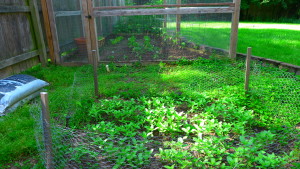 Zinnias (in foreground)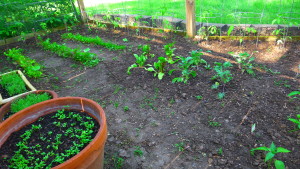 The enclosure w/ basil and marigolds in pots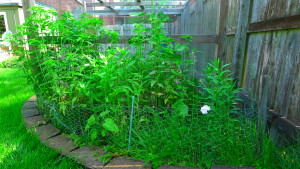 Hummingbird and butterfly flowers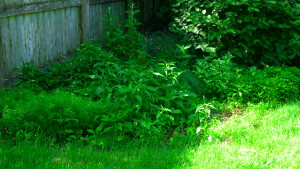 Wildflowers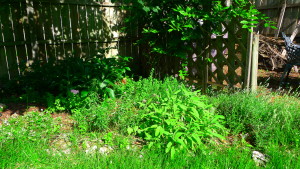 Herbs
 Exterior of enclosure
So far it's green thumbs up!
Bruno