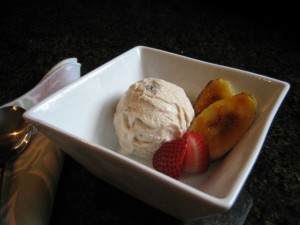 It's definitely summertime here in St. Louis, so this means it's time to try out some new gelato flavors! I had a couple of friends over for pizza the other night and served this gelato for dessert. The consensus was this recipe is a keeper. The sweetness from the strawberries and caramelized bananas allowed me to reduce the sugar in the mixture.
Strawberry Gelato w/ Caramelized Bananas
Ingredients:
1 pound strawberries pureed and seeded (pass through a fine mesh sieve to remove seeds)
6 egg yolks
2 bananas – sliced diagonally into 1/4 inch slices
1 quart half & half
3/4 cups sugar
sugar for caramelizing bananas (you will need a torch to do this)
Procedure:
1) Remove leaves from strawberries, quarter the berries then puree in food processor
2) In a metal bowl, whisk egg yolks and sugar until mixture becomes smooth and pale yellow
3) Place half & half in a heavy pot and heat until scalded  
4) Very slowly whisk half & half into egg/sugar mixture so as not to curdle the mixture
5) Place bowl w/ mixture over a pot of simmering water, stirring continuously w/ a heat resistant spatula until mixture coats the back of a metal spoon (do not let mixture exceed 170 degrees F to prevent curdling), then quickly place bowl in an ice bath to stop the cooking process and promote rapid cooling. Stir in strawberry puree
6) Once cool, refrigerate mixture for at least 4 hours or overnight
7) Place sliced bananas on a sheet pan, sprinkle w/ sugar then torch like you would creme brulee (save 1/4 of the caramelized bananas for garnishing, or snack on them while churning gelato – your choice!)
8) Churn mixture in ice cream maker according to manufacturer's instructions
9) Pour gelato into a 2 quart plastic container, stir in 1 1/2 of the caramelized bananas (making sure they are distributed evenly throughout the mix) then place a piece of parchment paper cut to size on the surface of gelato (this will reduce air exposure and prevent ice crystals from forming on the surface of the gelato), seal container and freeze until firm 
Yield: Approx. 1 1/2 quarts 
Cook's notes: Despite the very light pink color of the gelato, it had a distinct strawberry flavor. Bananas are a classic combination w/ strawberries  – caramelizing them lended a bit more complexity to the blend.
Eat gelato, stay cool!