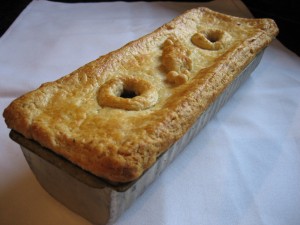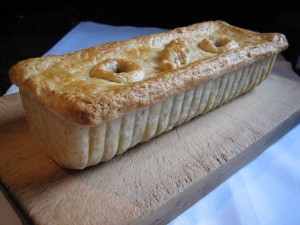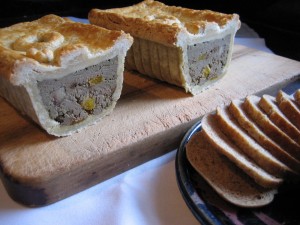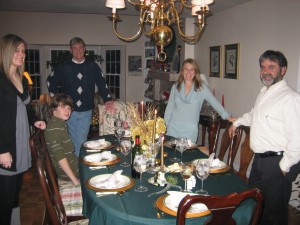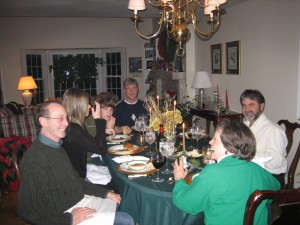 Hello! I hope everyone had an enjoyable and mostly stress-free holiday season. I did, because I've learned to pace myself and not feel obliged to attend every holiday gathering if I'm not feeling up to it. This philosophy has helped tremendously in allowing me to enjoy the holidays and significantly reducing my stress level.
I prepared this pate' for the Christmas festivities I attended. I had the lamb liver from the whole lamb I purchased from a foodie farmer and fellow food blogger who lives here in Missouri. (Thanks for sharing your delicious lamb w/ me Susan!) Instead of sauteeing the liver w/ some onions I decided to try my hand at making a pate' en croute (i.e., in pastry dough) to share w/ my friends. The end result was good, but if you don't like the flavor of lamb, this pate' is not going to be to your liking. For those of you who do like lamb, here's the recipe.
Lamb Liver Pate' En Croute w/ Apricots, Chestnuts, & Porcini Mushrooms
Ingredients:
1 bottle champagne or sparkling wine
14 ounces lamb liver
10 ounces chicken liver
1/3 cup fresh chestnuts (boiled, peeled and cut into 1/2 inch pieces)
1/3 cup cognac soaked dried apricots (soaked for 1 1/2 – 2 hours, then cut into 1/2 inch cubes)
1/3 cup dried porcini mushrooms (rehydrated and cut into 1/2 inch pieces)
2 large shallots (peeled w/ a whole clove inserted in each)
5 sprigs dried thyme
2 sprigs dried tarragon
2 ounces unsalted butter (1/2 stick) at room temperature, cut into 1/2 inch pieces
salt and pepper
1 egg (to brush top of  pastry dough before baking)
** for pastry dough I used the following recipe  (doubled)
*** prepare dough and liver the day before assembling and baking
Procedure:
1) In a large pot, pour champagne and add liver; poach over medium/low heat for 1/2 hour
2) Strain liver from poaching liquid, remove shallots and herbs, let cool, then cut into small pieces
3) Place liver in food processor, add butter, sprinkle w/ 1/2 teaspoon salt and 15 grinds of pepper, then pulse until smooth; taste mixture and add more salt and pepper if needed
4) Place liver mixture in a large non-metallic bowl, then mix in apricots and mushrooms (both drained) and chestnuts by hand to distribute evenly; cover bowl and place in fridge overnight (unless you are making the pate' on the same day)
5) Remove liver mixture and dough from fridge
6) Preheat oven to 400 degrees F
7) Roll first disk of dough to 1/4 inch thick and to the size of your mold (to get approximate dimensions, put mold on rolled out dough, then cut to size – remember that you will need enough to line bottom of mold plus about 1/2 inch extra dough over the sides); set aside for assembly
8) Roll out second disk of dough to 1/4 inch thick large enough to cover the top of your mold with about 1/4 inch extra on all sides
9) Spray mold w/ cooking spray for easier unmolding (I used one w/ canola oil)
10) Line bottom of mold w/ dough, gently pressing dough to the shape of the mold
11) Fill mold w/ liver mixture, gently spreading to fill evenly
12) Place top layer of dough on and pinch edges all around to seal
13) Cut vent holes using a small dough cutter, then decorate top as you wish w/ leftover dough (I decorated mine w/ a holly leaf and berries)
14) Brush top w/ egg wash and bake on center rack of oven  for 40 minutes, rotating pate' after 20 minutes for even browning
15) Remove from oven and let cool completely before unmolding and serving (I loosely covered mine and placed it in the fridge overnight, then sliced it in half the next day so I could take half to each friends' home)
16) Serve w/ thinly sliced whole grain cocktail bread or by itself
May you all have a wonderful, healthy, happy and prosperous 2010!!
Bon Appetit…