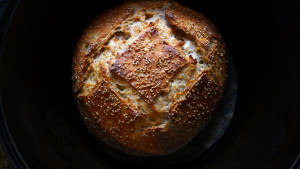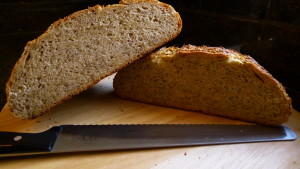 Like a lot of people are doing while at home during this pandemic, I'm trying some new recipes. Luckily there was flour in my pantry because it's a hot commodity at grocery stores and you're lucky to find some! Since I had just reactivated my sourdough starter, I decided to attempt a new bread recipe that doesn't take days to make (even though I have plenty of time on my hands these days!). If you have an active starter, this recipe takes approximately 4 hours from start to finish… my kind of bread recipe. Not only is it relatively easy to make, the end results are quite delicious!!
Sourdough Boule w/ Sesame Seeds (recipe adapted from King Arthur Flour)
Ingredients:
1 cup (227g) ripe (fed) sourdough starter

3/4 cup (170g) to 3/4 cup + 2 tablespoons (199g) lukewarm water*

3 1/2 cups (418g) Artisan Bread Flour or King Arthur Unbleached All-Purpose Flour (I used all-purpose)

1/2 cup (71g) sesame seeds, toasted until golden for best flavor

2 teaspoons salt

1 1/2 teaspoons instant yeast
*Sourdough starter can vary quite a bit in consistency. Use enough water to make a soft dough.

Procedure:
1) In a large mixing bowl,  combine the fed sourdough starter and 3/4 cup of the water, mixing until smooth.
2) Add the remaining dough ingredients, and mix and knead — by hand, mixer, or bread machine — until you've made a soft dough, adding additional water as needed.
3) Cover the dough in the bowl, and let it rise until it's almost doubled, about 1 to 1 1/2 hours.
4) Turn the dough out onto a lightly greased work surface and gently fold it over a few times to deflate it.
5) Shape the dough into a large round. Grease a Dutch oven and place the dough into it.
6) Cover the Dutch oven, and let the loaf rise until it's very puffy, about 1 1/2 to 2 hours.
7) Just before baking, brush or spray the loaf with water, and sprinkle with seeds. Use a lame or a very sharp knife to make several slashes across the top of the loaf, in the shape of a pound sign.
8) Place the covered Dutch oven into a cold oven, set to 450°F, and turn on the oven. Bake the bread for 35 minutes.
9) Uncover and continue baking until the bread is deep golden brown, about 10 additional minutes.
10) Remove the bread from the oven and turn it out of the Dutch oven onto a rack to cool.
Eat and drink to your heart's content, but most of all, stay healthy!
Bruno