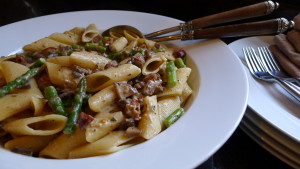 So, a few years ago my sister-in-law ask me if I knew how to make a pasta w/ mushroom sauce. We attempted to create a recipe and had mediocre results. Ever since then I've been developing new recipes and finally have come up w/ a keeper!
Pasta w/ Creamy Mushroom Sauce and Asparagus
Ingredients:
1 pound pasta
12 ounces crimini mushrooms (sliced, then cut slices in half)
1 head garlic
2 chicken sausages (sliced, then quartered)
1 teaspoon rosemary (chopped)
1 teaspoon sage (chopped)
1/3 cup chicken broth
1/3 cup half & half
1/3 cup goat cheese
1/3 teaspoon red pepper flakes
1/2 pound asparagus spears (cut into 1 1/2 inch pieces)
salt to taste
Procedure:
1) Roast garlic in oven until soft; squeeze out cloves, then crush cloves into goat cheese
2) Cook asparagus spears until tender (approx. 3 minutes); set aside
3) Saute' sausage in sauce pan until slightly browned; set aside
4) Saute' mushrooms in sauce pan until they have softened
5) Add herbs, goat cheese mixture, pepper flakes, sausage, broth and half & half to mushrooms
6) Place sauce pan over medium/low heat and whisk together sauce, salt to taste and keep warm until pasta is ready
7) Cook pasta until "al dente"; fold sauce and asparagus into pasta and serve immediately
Yield: 4 servings
Happy Easter!
Bruno