Archive for the 'Travel' Category
Page 2 of 4
The weekend before Thanksgiving I had the opportunity to spend a couple of days in Anguilla while our plane had some fixes done. We stayed at the Cuisinart Resort – yes the same Cuisinart that makes the kitchen products. This property is very unique in that it has a huge hydroponic farm (18,000 square feet) on site to supply most of the vegetables and herbs for the resort's restaurants. This place was a food lover's dream! We sampled some of the good eats at the restaurants and I got to take a peek at the hydroponic farm courtesy of the farm's creator and manager, Howard Resh, Ph. D. . For more information on hydroponic farming click the following link to visit Dr. Resh's website: http://www.howardresh.com/
Here are a few photos of this beautiful and food-centric resort and the hydroponic farm: (click images to enlarge)
 Tuna four ways: sashimi, grilled, tempura and tartare
 Steak tartare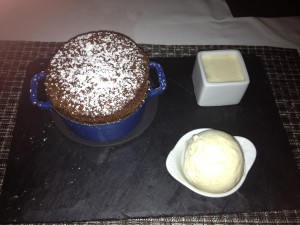 Chocolate souffle
 From my room
 Beach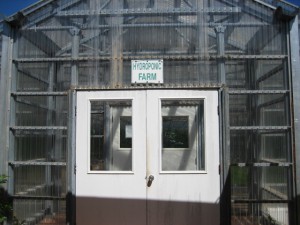 The farm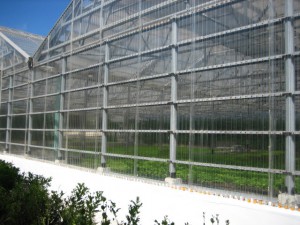 Lettuce pond
 Under the lettuce
 Herbs
 Dr. Resh
 Cherry tomatoes
 Red bell pepper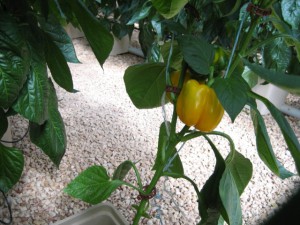 Yellow bell pepper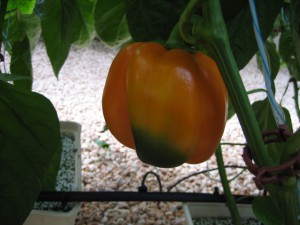 Orange bell pepper
 English cucumbers
 Seedlings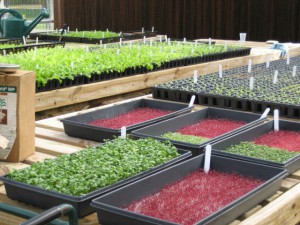 Microgreens
 Under the microgreens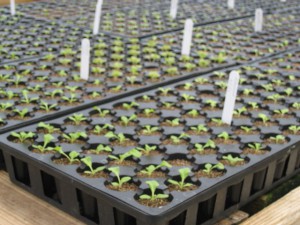 Baby lettuce
 Planting a crop
 More herbs
 Bok choy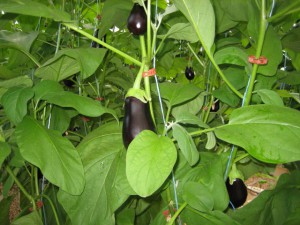 Eggplant
 Basil
 Cherry tomatoes
 Lettuces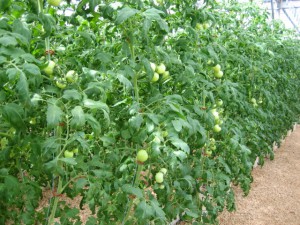 Beefsteak tomatoes
I wish I had a garden like this in my backyard… maybe next year!
I was very fortunate to have spent a few days working on Maui during the week before Thanksgiving. Here are a some of the many photos I snapped on this beautiful island.
Welcome to Maui!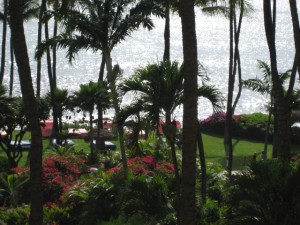 View from my hotel room.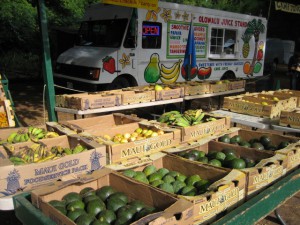 Fruit stand and smoothie truck on the way from Kahului airport to Kaanapali beach.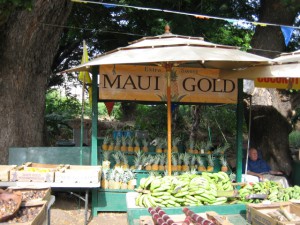 They sold passion fruit, guavas, papayas, mangoes, bananas, sugar cane, pineapples, star fruit, lemons, limes and coconuts among other things.
The old banyan tree in Lahaina.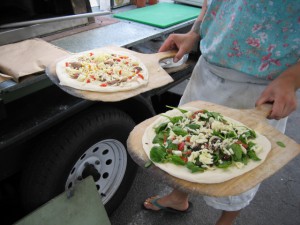 Wood fired pizza from a street vendor – we selected the spinach special and lilikoi pork pizzas.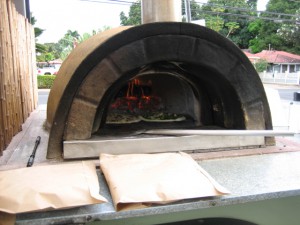 Our pies baking in the oven.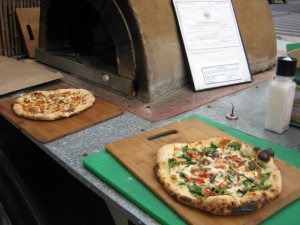 Time to eat!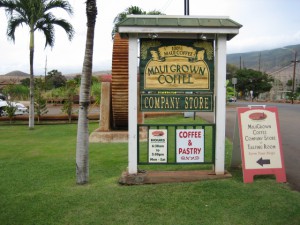 Next stop the Maui Grown Company Store to sample some locally grown coffee. Sampled five types of beans and decided I enjoyed the Lahaina Beach the best so I bought a pound to bring home.
We then drove to the Kaanapali Coffee Farms to see where the beans are grown.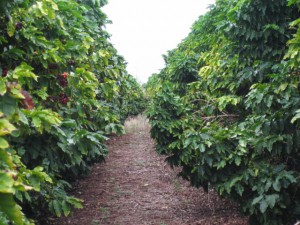 The next morning we drove to Hana on the windward side of the island. Sugar cane fields in the foreground w/ the sun rising over Haleakala volcano.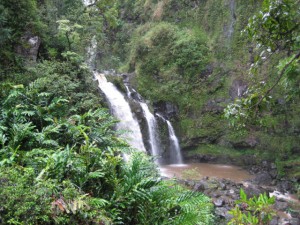 Along the Hana highway.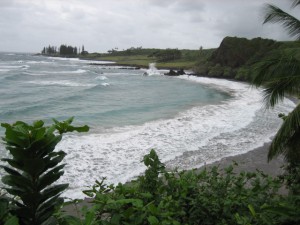 Surf's up in Hana!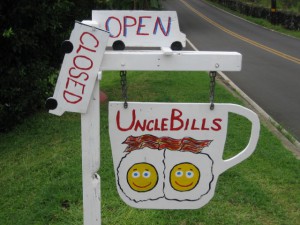 Breakfast at Uncle Bill's in Hana. A quirky stationary food truck w/ an eccentric proprietor named Phyllis.
The funky decor at Uncle Bill's.
Across from the ball fields in Hana is a great food stand called Thai Food by Pranee where I purchased the special of the day, Panang Mahi Mahi, to have for lunch before our hike in Haleakala National Park. No photo, just delicious memories and a link for more information : click here 
Baby pig crossing, but none were crossing as we drove by…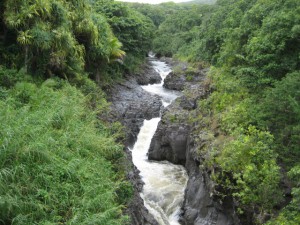 Entering Haleakala National Park.
Map of the park.
A banyan tree along the trail up to Waimoku Falls.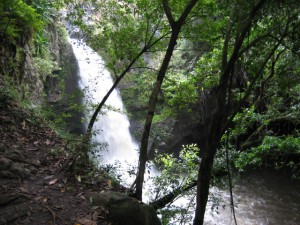 One of the many waterfalls along the trail to Waimoku Falls.
The bamboo forest.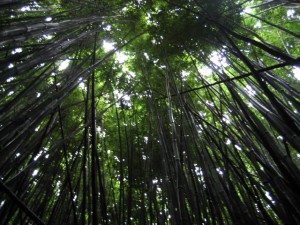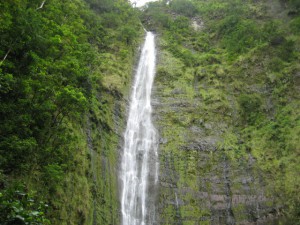 Spectacular Waimoku Falls which drops 400 feet!
The base of Waimoku Falls.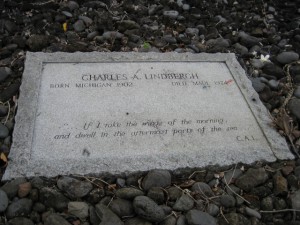 Charles Lindbergh's final resting place.
Continuing along the Hana highway there are many beautiful vistas.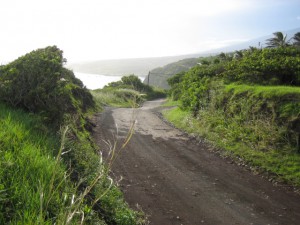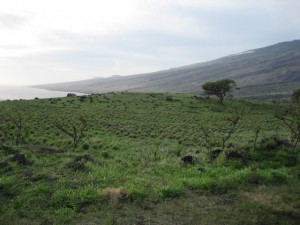 The changing scenery as we get closer to the base of Haleakala volcano which you can see in the background.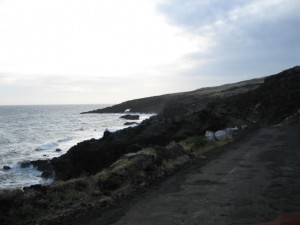 One of the many hairpin turns along the highway. Keep your hands on the wheel and your eyes on the road!!
That's all folks! Hope you enjoyed the tour…
On April 10th we dropped off some people  in St. Thomas, then flew down to St. Kitts where we spent the night. We arrived at our hotel around 3:00 that afternoon. It was a beautiful day so I went for a long walk along the beach and snapped a few photographs.
St. Kitts is a very beautiful island – the temperature was around 85 degrees F with a cool ocean breeze blowing – simply perfect! The people here are friendly and the food was pretty darn good too! We ate dinner at a little place on the beach called the Shiggidy Shack  (recommended by one of the people assisting us at the airport). At the Shiggidy Shack we were greeted by a local who was carrying his 6 month old pet Vervet monkey which he let me hold for awhile. The monkey was a cute little thing and was smaller than my cats. He was wearing a tiny diaper so he wouldn't poop all over his admirers :-)  There are around 60,000 Vervet monkeys living on the island of St. Kitts!
As I perused the Shiggidy Shack's menu, the Melted Lava Jerk Chicken caught my eye and tantalized my taste buds! The chicken packed some heat but wasn't overwhelmingly spicy.  A couple of glasses of  red wine rounded out the meal. The service was slow, but the meal was good. All in all  it was a satisfying experience.
 We left St. Kitts at 11:00 the next morning with some great memories, and for me a desire to return on vacation sometime in the future!
In flight to our destination
Basseterre, St. Kitts
From my hotel balcony
Beach scene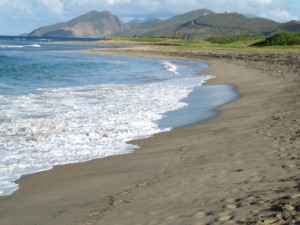 More beach
And more beach
Sunrise from my hotel balcony
Relax mon, it's de islands…
As we were flying up the west coast I was able to get some pretty good shots of majestic Mount Rainier and explosive Mount St. Helens.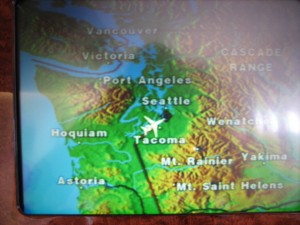 Mount Saint Helens
Mount Rainier
Happy Thanksgiving!
For those of you baking in this sweltering midwest weather, here's a photo of Mount Hood poking through the clouds that I snapped as we were flying into Portland, Oregon last week. Wish I was closer to that mountain right now!!
Stay cool…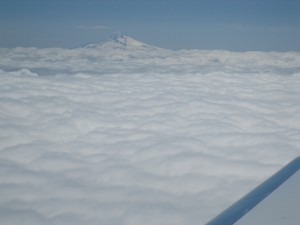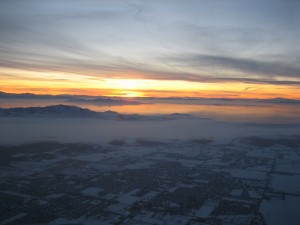 Flying into Salt Lake City on January 3rd  offered up a beautiful sunset!
Happy New Year :-)
… or what I did on my summer vacation. A few weeks ago I went to New Mexico for 5 days w/ my best friends, Bob and Kristin. We stayed in Santa Fe and took day trips to explore the beautiful places that surround that enchanting city. We also found some great places to eat and drink. I took many, many pictures but I won't bore you w/ all of them… just some of my favorites!
Day 1: Drove up from Albuquerque, checked into the hotel and got settled. Walked along Canyon Road to look at the galleries and visit the leather shop, Desert Son, to have a belt made for a silver belt buckle I bought 4 years ago. We then had dinner at Bert's La Taqueria which was recommended to us by the owner of  Desert Son. The food there was not your typical Mexican fare and the chef/owner, Fernando Olea, took time away from the kitchen to explain the cuisine he was preparing that evening. We sampled pork w/ a  traditional red mole from the Puebla region of Mexico; beef tongue w/ a spinach based green mole from the Quintana Roo region; and some unique desserts that we promised not to share the main ingredients so other customers can guess as we did. The food was so good we went back the next day for lunch!
Bert's sign, front door and patio
Beef tongue w/ green mole; pork w/ red mole; desserts
Day 2: Started the day w/ a cup of coffee from Holy Spirit Espresso, which uses delicious beans from Caffe D'arte (their northern Italian roast called Firenze), then went to Desert Son to pick up my belt. In the afternoon we drove to Chimayo and Taos. We visited the Santuario de Chimayo where miracles have occurred, then headed up to Taos to see the famous multi-level pueblo there. Unfortunately the pueblo was closed for the day so I don't have any pics. Got back to the hotel late in the day, starving, looked at the menus at a few restuarants, then settled on a great Japanese place that had a fantastic price for bento box dinners. Kohnami Japanese Restaurant – another great find! Didn't take any pics but click the link for their menu.

Outside of Holy Spirit Espresso; window shopping; picturesque window

Santuario de Chimayo
Day 3: In the morning we drove up to San Ildefonso Pueblo to look around and check out the famous black pottery made there. Had lunch in at La Casa Sena which has a beautiful courtyard and a great wine shop next door. Spent the rest of the afternoon walking around Santa Fe. then stopped in at a new restaurant that had just opened that weekend, Milagro 139, for appetizers and a glass of wine.

San Ildefonso Pueblo
…more pics from San Ildefonso
La Casa Sena courtyard and wine shop
Walking around town
Day 4: Drove up to Bandelier National Monument to hike around the cliff dwellings of the Pueblo Indians that date back to the 11th century. A very interesting and beautiful area! After hiking the dwellings and having a picnic lunch there, we drove back to Santa Fe for our last dinner of the vacation. We decided to eat at a restaurant that we looked at earlier that had a great menu w/ great prices – Dinner for Two. We chose their Monday dinner special which is a three course meal for $19 – the food and service was excellent!   What a perfect way to cap off our last evening in Santa Fe!!
Bandelier National Monument…
…more Bandelier
…and more
… and more
Dinner for Two
Salad; grilled dry aged New York Strip; stuffed chicken breast & tornado of beef
Day 5: Said goodbye to Santa Fe and drove back to Albuquerque. Before heading to the airport we stopped at a winery – Casa Rondena – to sample some New Mexican wines. The estate is beautiful and the wines are very good!
Casa Rondena Winery; tasting room…
…and the estate
That's all folks! Until next time…
Here's another photo from my brother, Fred. The photo was shot southeast of Bordeaux in the Landes region. I thought the flowers were lavender but Fred informed me that it's heather. It looks like spring in southern France!
for 17 hours!
St. Michael – where we stayed; sunset from my room
Bird searching for food; beach at sunrise
Until next time…