Archive for the 'Travel' Category
Page 2 of 3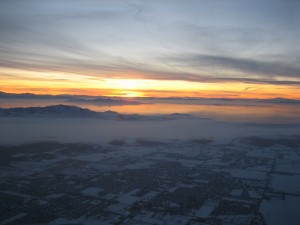 Flying into Salt Lake City on January 3rd  offered up a beautiful sunset!
Happy New Year :-)
… or what I did on my summer vacation. A few weeks ago I went to New Mexico for 5 days w/ my best friends, Bob and Kristin. We stayed in Santa Fe and took day trips to explore the beautiful places that surround that enchanting city. We also found some great places to eat and drink. I took many, many pictures but I won't bore you w/ all of them… just some of my favorites!
Day 1: Drove up from Albuquerque, checked into the hotel and got settled. Walked along Canyon Road to look at the galleries and visit the leather shop, Desert Son, to have a belt made for a silver belt buckle I bought 4 years ago. We then had dinner at Bert's La Taqueria which was recommended to us by the owner of  Desert Son. The food there was not your typical Mexican fare and the chef/owner, Fernando Olea, took time away from the kitchen to explain the cuisine he was preparing that evening. We sampled pork w/ a  traditional red mole from the Puebla region of Mexico; beef tongue w/ a spinach based green mole from the Quintana Roo region; and some unique desserts that we promised not to share the main ingredients so other customers can guess as we did. The food was so good we went back the next day for lunch!
Bert's sign, front door and patio
Beef tongue w/ green mole; pork w/ red mole; desserts
Day 2: Started the day w/ a cup of coffee from Holy Spirit Espresso, which uses delicious beans from Caffe D'arte (their northern Italian roast called Firenze), then went to Desert Son to pick up my belt. In the afternoon we drove to Chimayo and Taos. We visited the Santuario de Chimayo where miracles have occurred, then headed up to Taos to see the famous multi-level pueblo there. Unfortunately the pueblo was closed for the day so I don't have any pics. Got back to the hotel late in the day, starving, looked at the menus at a few restuarants, then settled on a great Japanese place that had a fantastic price for bento box dinners. Kohnami Japanese Restaurant – another great find! Didn't take any pics but click the link for their menu.

Outside of Holy Spirit Espresso; window shopping; picturesque window

Santuario de Chimayo
Day 3: In the morning we drove up to San Ildefonso Pueblo to look around and check out the famous black pottery made there. Had lunch in at La Casa Sena which has a beautiful courtyard and a great wine shop next door. Spent the rest of the afternoon walking around Santa Fe. then stopped in at a new restaurant that had just opened that weekend, Milagro 139, for appetizers and a glass of wine.

San Ildefonso Pueblo
…more pics from San Ildefonso
La Casa Sena courtyard and wine shop
Walking around town
Day 4: Drove up to Bandelier National Monument to hike around the cliff dwellings of the Pueblo Indians that date back to the 11th century. A very interesting and beautiful area! After hiking the dwellings and having a picnic lunch there, we drove back to Santa Fe for our last dinner of the vacation. We decided to eat at a restaurant that we looked at earlier that had a great menu w/ great prices – Dinner for Two. We chose their Monday dinner special which is a three course meal for $19 – the food and service was excellent!   What a perfect way to cap off our last evening in Santa Fe!!
Bandelier National Monument…
…more Bandelier
…and more
… and more
Dinner for Two
Salad; grilled dry aged New York Strip; stuffed chicken breast & tornado of beef
Day 5: Said goodbye to Santa Fe and drove back to Albuquerque. Before heading to the airport we stopped at a winery – Casa Rondena – to sample some New Mexican wines. The estate is beautiful and the wines are very good!
Casa Rondena Winery; tasting room…
…and the estate
That's all folks! Until next time…
Here's another photo from my brother, Fred. The photo was shot southeast of Bordeaux in the Landes region. I thought the flowers were lavender but Fred informed me that it's heather. It looks like spring in southern France!
for 17 hours!
St. Michael – where we stayed; sunset from my room
Bird searching for food; beach at sunrise
Until next time…
…Kauai, Hawaii where we had an 18 hour layover. Enough time to see some sights, eat dinner and sleep!
Hotel scenes and beach
Me; Opaeka'a Falls; camouflaged chickens and doves
Another beach; somewhere on Kuhio Highway; one lane bridge to Hanalei
Hanalei Bay and Hanalei Valley
Happy Trails…
These photos were sent to me by my brother, Fred, who lives in Agen (which is located between Toulouse and Bordeaux). He didn't know what type of grapes are in the photos, but they sure are beautiful! Thanks for sharing these w/ me Fred!!
Unfortunately I had to go on the road during the week of my birthday this year. But, as luck would have it, we overnighted in Monterey, California on the eve of my day. I wanted to eat a special meal on my birthday so we went to a place I tried last year where I ate some great seafood and drank some great California wine – Monterey's Fish House!
Fish House exterior and interior
more interior shots; the menu
Hama Hama oysters; scallops, scampi style
close-up of scallops; wine of the evening; Sal, our bartender
If you enlarge the picture of the exterior you may notice the police tape on the hand rail in front. I'm assuming someone overdosed on the delicious seafood and wine, then crashed through the railing on their way out (ha, ha)! If I lived in Monterey or in the vicinity, this would soon become one of my restaurant hangouts. Nothing fancy, just damn fine food and wine at a reasonable price; friendly, knowledgeable staff and a laid back atmosphere – definitely my kind of place! They serve some of the biggest oysters I've ever seen – Hama Hama oysters from the deep water pacific caught off the shores of Lilliwaup, Washington. For dinner I had the scallops, scampi style which consisted of about a dozen sea scallops perfectly seared then served over fettucini w/ a sauce of fresh garlic, white wine, butter, green onions, tomatoes and mushrooms. Divine!! I broke the rules by having w/ the scallops one of my favorite red grape varietals, Zinfandel. California produces some of the best, so I chose the Boeger 2006 Walker Vineyard Zinfandel from El Dorado, California. Usually I have room for dessert, but not tonight!
 If you happen to find yourself in Monterey, I highly recommend you give Monterey's Fish House a try!! If Sal's tending to the bar, tell him Bruno sent you :-)
A votre sante'!
It's 2008, I've got the blues, and I've lost my cooking mojo! I'm going to a pie making workshop on Sunday so maybe that will help inspire me.  
Until then, here are some photos from my last work week. I got some great shots of the Seattle skyline but unfortunately we didn't get to spend any time there. We did however get to spend a few hours in Napa Valley. It was torture going to wine country and not being able to taste any wine! (we were on duty) Thankfully we had the opportunity to eat a nice meal at Mustards Grill and stop by the French Laundry in Yountville to take a look around. I was able to go in the kitchen because the restaurant was closed for a few days for a tune-up. We also had time for a short visit to Copia (the center for wine, food and the arts) in the city of Napa.  
Enjoy the views! (click on photos to zoom in)
Mount Rainier; Seattle skyline
Mustards Grill
 Mustards menu; Larry & Kim (the pilots); Kim & me
hanger steak; seafood tostada; cherry & pear bread pudding
Napa Valley scenery
entering Yountville; The French Laundry
more of The French Laundry
inside the kitchen
Copia
Until next time…
 Bruno
  
Welcome to the Telluride airport… located on a plateau 9080 feet above sea level. The runway is somewhat concave – you land on a downward slope and take off going uphill. If winds exceed 10 nautical miles per hour you must divert!
Pilots say it's one of the most challenging airports to fly into. See for yourself…
 Safe travels :-)
We had a great week flying around the US and sampling the food of the region whenever we had the opportunity! We started our eating tour in Denver, where we had dinner at Las Brisas, a great little Mexican restaurant near our hotel. I don't have any photos but you can click the link for their menu. Next stop Jackson Hole, where we had lunch at Sweetwater Restaurant. They serve great elk burgers and elk sausage sandwiches! The next evening we found ourselves in Des Moines, Iowa. We had dinner at Centro (sorry, no photos, but check out the link), then strolled around the Des Moines Art Festival which was in progress. As luck had it, later in the week we landed in New York City. We stopped in the Shark Bar at Spring and Mulberry Street for a couple of Belgian beers (Hoegaarden wheat), then headed over 1 block on Spring to Lombardi's to sample some of their famous coal fired oven pizzas. The ovens heat up to 850 degrees F, creating a beautifully crispy, chewy and blistered crust. I tried to get the dough recipe, but apparently it's top secret! After the pizza we headed over to Little Italy for dessert at Ferrara Cafe. They serve great gelato and cannoli among other things!
Hope you enjoy the photos….
 Ciao,
Jackson Hole, Wyoming
Jim, Jeff and me in front of Sweetwater
Up, up and away!!
Me in the Shark Bar…  Little Italy and Grand Central Station 
Lombardi's, yum!